Take a journey with us into the past year!
Posted on December 17, 2021
The year is drawing to a close and it is time to look back over the past year with all its challenges, opportunities, and innovations. Take a journey with us to review all that has happened at LORENZ during the last year.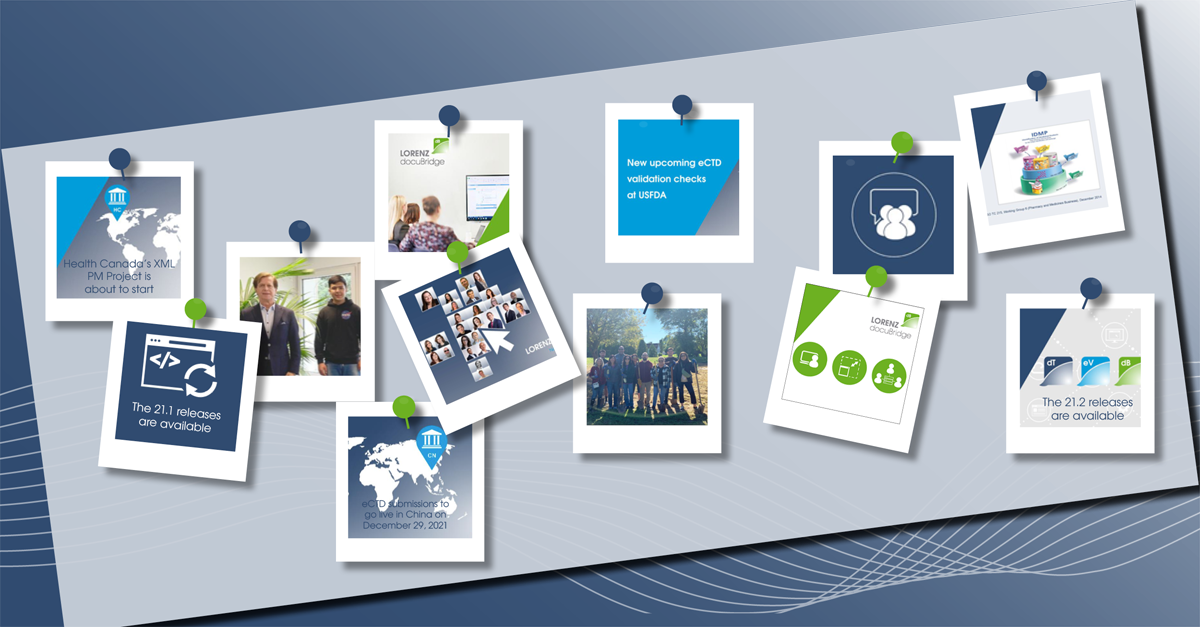 Over the year new regulatory rules and updates in the Health Agencies have been developed. The USFDA announced early this year that they would begin to enforce the new eCTD validation checks, and Phase II of Health Canada's XML PM Project is about to start. There is also one major change still ahead of us this year – the CDE of the Chinese NMPA, which will go live with eCTD submissions on December 29. LORENZ has been providing a publishing module for the entire draft phase in docuBridge and is prepared for the switch. Are you prepared as well? If not, you should check out LORENZ docuBridge.
Based on the very positive feedback we received and to compensate for the postponement of our on-site conferences we organized another LORENZ Connect. With visitors from 25 countries tuning in it was, again, a major success!
A different but also important event was an initiative focused on planting 5,000 native trees, shrubs and perennials within the Perkiomen Watershed, USA. LORENZ sponsored this environmental initiative with a financial donation as well as the good old muscle power of some LORENZ team members.
Beside events, we also stayed true to our mission in finding ways to make work in the Regulatory Affairs World easier. Not only did we improve our current solutions with features such as the LORENZ Menu and the reworked Administrative Information Pane, but we also implemented new features to help you prepare for upcoming challenges such as IDMP. We would like to use this opportunity to once again highlight the independent LORENZ docuBridge userGroup founded by Philip Hall and Theo van der Zee and the independent LORENZ drugTrack userGroup founded by Marina Kreiner. The user groups will help exchanging best practices, ideas, and ways of working with LORENZ's products. Everyone who wants to join is more than welcome.
You are also more than welcome to read about CO.DON's experience of upgrading from LORENZ docuBridge ONE to docuBridge FIVE. It answers a lot of questions on how switching is processed from a customer perspective.

Finally, we would like to share the good deeds of our LORENZ Charitable Foundation as it was deeply involved in helping stranded seafarers from Kiribati, as well as supporting the Paralympics silver medal winner Vico Merklein and a 15-year old refugee. You can read the whole stories below.
If you would like to be informed about all these updates on a regular basis, sign up for our e-mail notifications in your LORENZ ID!

LORENZ wishes all of you happy holidays and a joyful new year.
Simply click the related image below to get in deeper details.