Living the dream of automation
Posted on April 22, 2021
Have you ever dreamed of your to-dos simply taking care of themselves? Then we have the solution for you!

The LORENZ Automator can do precisely that. It can easily take over some standardized processes so that you can spend more time taking care of other tasks. But allow us to illustrate how exactly this works with a small example. In our office, we have mugs that explain in an abstract and easy-to-understand way how the Automator works. (Side note: Unfortunately, the Automator cannot actually help us with our morning coffees… not yet at least!)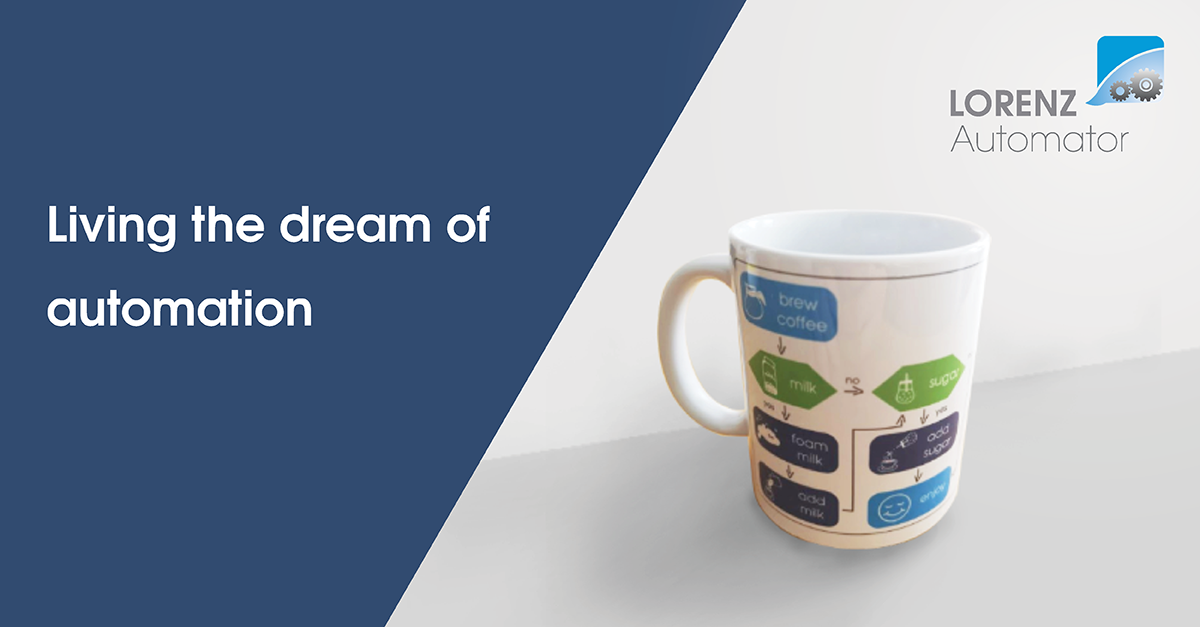 Imagine this: You arrive at the office and want to start with arguably one of the most important tasks of the day – making a coffee. So, you go to the Automator and start the coffee brewing process. You decide you would like a coffee with milk and our little auxiliary helper foams the milk and adds it to the coffee. Today, you need a bit of sugar, too – so the Automator adds some to your coffee. And, lo and behold, your coffee is ready for you to enjoy so you can finally start your day!

The best thing is that the Automator will remember how you like your coffee and at what time. As the great little helper it is, it will now welcome you with a freshly brewed coffee when you step into the office. Yet, it stays flexible enough to recognize when you are on vacation or you want to skip the sugar.

Not only does this small example show what a standardized process could look like if it is automized, but it also shows the advantages of doing so. On the one hand, nobody has to study the art of foaming milk, thus the requirements for training are reduced and it leads to fewer errors and, most likely, less frustration. On the other hand, time is saved as we cut down on the number of manual steps by having milk and sugar added automatically. Of course, you could argue that these steps don't take much time, but if you consider how many coffees are made every day, the time saved really does start to add up. If you can save one minute a day, then you can save over four hours in a year with 250 working days… and that's just for one person! And we all know that tasks regarding Regulatory Affairs are not as easily dealt with as adding milk or sugar to coffee.

After the Automator is told how the process is done, it will do it automatically with little input required from you. And that brings us to the usage of the Automator in the Regulatory Affairs World. Let us take a look at a more complex topic and how you can benefit from the Automator in your daily work: dispatching your submission to a national authority.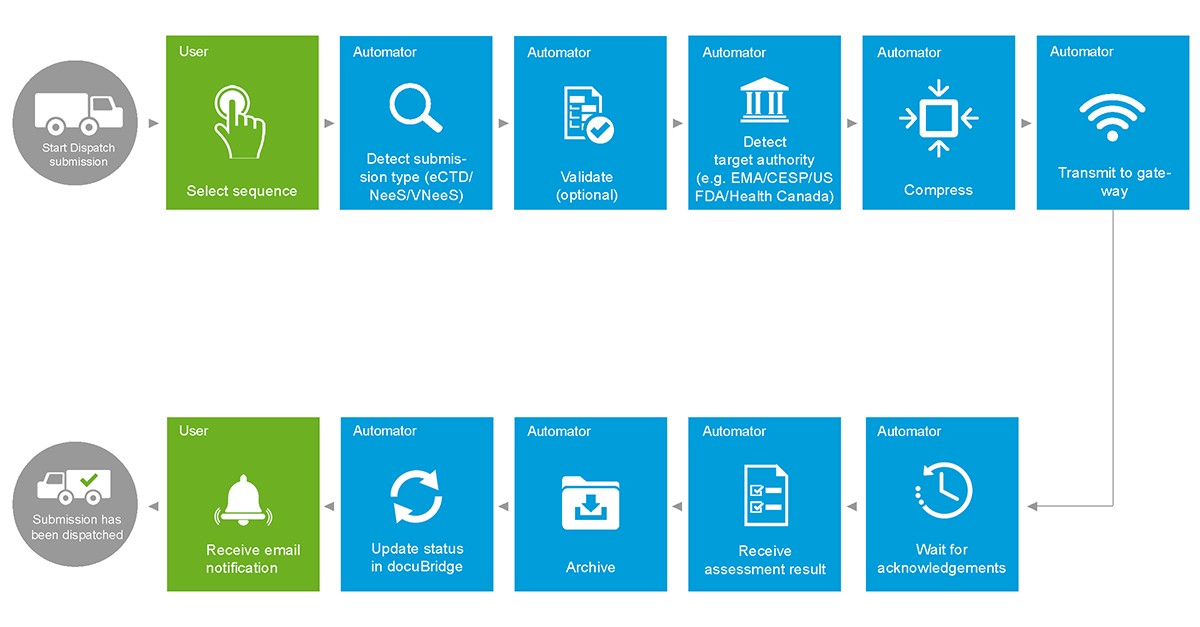 All you have to do is select the sequence you would like to dispatch. And it's already at this point that the Automator comes into play and automatically carries out each step of the process by itself. First, it detects the submission type and validates the sequence via the LORENZ eValidator, just to be sure everything is correct. If everything is in order, it will detect which authority the submission should be transmitted to. It then compresses the sequence, and up it goes to the gateway. The Automator will now wait for acknowledgments, and as soon as they come in, it will assess the content of acknowledgement receipts and archive the submission. Afterward, the Automator will update the status in LORENZ docuBridge and trigger an email notification to let you know that the process has finished.

This is only one way our Automator can help you – the possibilities are as numerous as the average number of coffees we consume in our lives (at least those of us who drink coffee). We already offer some standard solutions for important workflows which can be implemented to your LORENZ solution easily. To add more individual solutions of the Automator to your LORENZ solution, our creative Automator Team will sit down with you to find out how you can make the most out of it. This is a necessary step as our standard solutions can still be tweaked and extended to fit your requirements and your Automator can be truly tailormade to meet your needs and requirements.

If you would like more information on this or if you already know which process you want to automate, don't hesitate to contact us or visit our Automator website.