LORENZ Press Releases
Register now for LORENZ' RIM Solutions Conference to be held in New Orleans, April 9-10, 2019
Frankfurt/Main, 11 January 2019 // LORENZ' annual Regulatory Information Management Solutions conference (LORENZlink) will take place at the Astor Crowne Plaza Hotel in the French Quarter of New Orleans, where Canal Street meets Bourbon Street. This annual conference attracts LORENZ customers, partners and other RIM professionals for two days of presentations, networking and exchange of ideas.
Established under the overall theme "Converge, Connect and Collaborate," the conference covers a wide variety of presentations and tutorials focusing on practical solutions for current challenges regulatory and IT professionals face. Topics will include:
Synchronization of metadata attributes with master data in support of searches
Data import challenges and solutions
Managing Combination Products
Working with the eCTD format in global products
Updates on electronic submissions at Health Canada
Practical applications of artificial intelligence in regulatory writing and publishing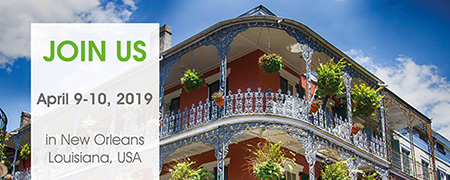 Participants will also have an opportunity to explore in depth the full range of LORENZ products during the following discussions: What's New in LORENZ docuBridge, Understanding LORENZ as a view Tool, Practical Solutions for LORENZ Automator and LORENZ drugTrack – Benefits and Business Cases.
LORENZlink also includes a range of table tutorials geared towards smaller groups of less than 25 people. These interactive group sessions will give participants the chance to dive into selected topics in depth, and discuss challenges that are relevant to them.
An optional product training day will follow on April 11, offering a choice between an advanced docuBridge FIVE training or a basic docuBridge ONE training. Both sessions will cover creating a new application (US version 3.3) and the basics of compiling modules 1 (regional information), 2, 3, 4 and 5 (STFs), as well as how the US FDA reviews applications.
"We are once again looking forward to welcoming a distinguished faculty of LORENZ customers, partners and staff as we learn from each other and plan for the future" said Yaprak Eisinger, Managing Director, North America, LORENZ Life Sciences Group. "We hope New Orleans will provide an unique backdrop with its distinctive blend of people, food, music and traditions."
Click here to register now and save your space!

For information on the conference and/or the additional training day, please contact:
Maria DeRose, mderose@lorenz.cc
Phone: +1 914 584 1955
About LORENZ Life Sciences Group
LORENZ Life Sciences Group (www.lorenz.cc) has been developing and marketing software solutions for the Life Sciences market since 1989. LORENZ has an array of Regulatory Information Management solutions geared towards industry, health authorities and academia which enable enforcing compliance globally. LORENZ' tried and tested portfolio offers Product Registration/IDMP, Submission Assembly, Validation and Management, Publishing/eCTD, Regulatory Planning and Tracking products and related services. Interoperability between LORENZ products and third party solutions, as well as the ability to automate processes allow LORENZ customers to enhance operational efficiencies. With over 950 paid installations in 36 countries, LORENZ has a strong worldwide customer base.