30 years of LORENZ (part 2)
Posted on November 17, 2020
LORENZ is the vendor of choice for agencies and industry alike!
The implementation of electronic submissions in more and more regions also means that keeping an overview of all regional requirements is becoming more and more difficult.

In response to this, LORENZ developed the eValidator to help both industry and agencies follow the rules more easily, and to speed up the overall process. This solution was first introduced in 2006 to conduct automated checks to ensure that a submission technically complies with an agency's specified format(s). This both reduced the number of rejected submissions and sped up the processing of marketing authorizations.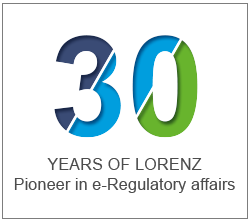 Did you know that eValidator's basic version has been available for free since 2009? Within just a year of its launch, the tool was downloaded 1600 times. And this happened at a time when the eCTD was still in its infancy!

With its wide international scope and regular updates, the eValidator user can create validation reports for formats like EU eCTD and VNeeS (EMA), CA eCTD (HC), JO eCTD (JFDA), US eCTD (US FDA), ZA eCTD (MCC) and many other formats. The fact that industry and authorities are using exactly the same validation software means that all users get an identical validation report, and submission delays are minimized through clear reporting.
Regulatory agencies using LORENZ solutions
After our first submission software, PharmBridge, was completed, LORENZ was required to make the actual data structure public, in the form of a "structure specification". This enabled other players to develop software that would meet the DAMOS specification, with the overall goal of creating competition.

Based on this LORENZ-specified structure, the DAMOS group then took over the official responsibility for the further development and publishing of the so-called "specification" standard.

Since the introduction of that first DAMOS standard in 1993, team members at BfArM, the German authority, have been working with LORENZ software products continuously. At first, PharmBridge Review software was used at single workstations to scan documents and subsequently to issue the approvals, on magnetic optical discs at first, and later moving to CDs.

LORENZ's e-regulatory solutions are already used by many leading authorities. Each of them gives us a better understanding of the unique needs of agencies around the world and the advantage of being able to directly incorporate these into the development process of our solutions.

Currently, 13 regulatory agencies are part of the LORENZ ecosystem, including the U.S. Food and Drug Administration (FDA) which officially went live with LORENZ solutions in 2020.

In 2018, the Center for Drug Evaluation (CDE) of China's NMPA requested LORENZ to provide docuBridge and eValidator as its eCTD review, validation, and document management system. We expect these products will be in use at the agency soon.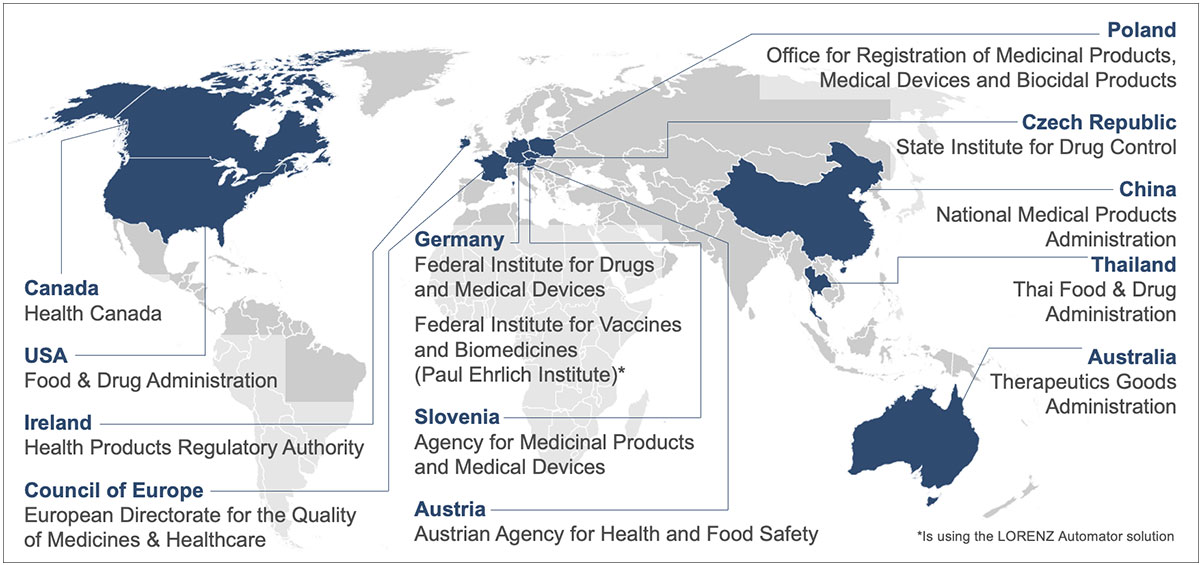 The map above shows all the agencies who are currently working with LORENZ products.